So You Can Know Who You're Dealing With
Our local, family owned full service property management company has been successfully buying, selling and renting properties in the greater Fort Wayne area since 1995. As the county's leading residential housing provider we've helped tens of thousands of clients find their way to a great home and success in renting, owning and selling real estate.
The Home You Desire At A Price You Can Live With
We manage a wide variety of homes in price ranges that will fit any budget. We pride ourselves in offering great value so our homes are priced very competitively. Our inventory of properties consists of both single-family houses- for rent and rent-to-own, and apartment buildings of between 2 and 20 units.
We have a full service maintenance team in place to meet maintenance requests in a timely manner by priority based on safety and need. We are constantly working to bring our managed properties to a condition well above minimum housing standards.
We are considered the experts in the field of real estate
We use a well-established and reputable law firm and Title Company
We have been featured in the Journal-Gazette and WANE TV
We have appeared and been interviewed on local and national radio
WHAT OTHERS SAY
A company say anything about themselves… the best way to find out about a company is from what others say.
Our qualifications and background will assure YOU that you're dealing with the most qualified and best-established real estate firm in the Greater Allen County area.
Here is what our house selling clients say…

Here is what our peers and renters say…

---
A GREAT OPPORTUNITY
Hear how you can get easy extra cash by simply telling others about us.
Flexible Hours
No Start Up Costs
No Experience Needed
FIND OUT MORE!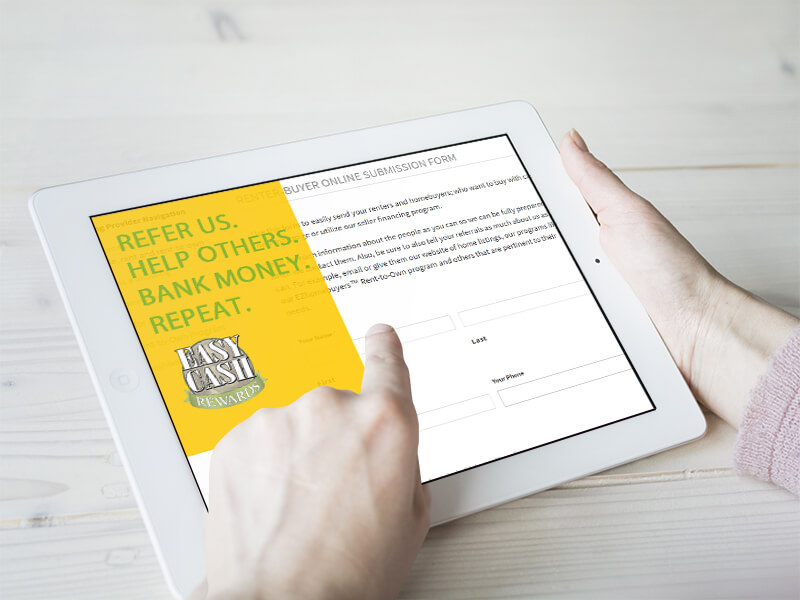 NEXT STEPS:
Get pre-approved fast. Complete our easy online
application here.
Then request a showing
here
Consider why the wealthy own: tax breaks, freedom and wealth through equity and appreciation by
owning your home without a bank
Not finding the perfect house?
Get free notification of new homes before we advertise them publicly
here