We have the #1 rated customer service in the industry for a reason:
» Hundreds of Beautiful Homes!
» Over 20 Years of Experience!
» High Quality You Deserve!
We are honored to call so many of our current and past clients friends. It is much more than a business to us. Our is a family-shared passion of making dreams come true while providing safe affordable housing in our Fort Wayne communities:
» NO CREDIT CHECK!
» NO APPLICATION FEE!
» NO MOVE-IN FEE!
» LOW DEPOSITS
We look forward to finding you the perfect place that suits your needs.
Amazing Homeowners using our Proven Program
Our Fort Wayne Selling Clients
Providing Great Housing to Fort Wayne Renter
And from Our Esteemed Peers
We have been buying, selling and renting properties since 1995. And now, as the county's leading housing provider, we have some memories too. Find more about who we are here
FIXER UPPER ADVENTURES
We have an inventory of fixer uppers with various stages and abilities needed to fix them up. You have watched the TV shows, now it is your turn to get into the Real Estate market. Our homes are in various price ranges and locations in the central Indiana area. Please contact us here, we will gladly help you start on your FIXER UPPER ADVENTURE.
---
INFORMATION TO OWN A HOUSE WITHOUT A BANK
Tired of Throwing away Rent? Then why wait to buy?
Then Fire your Landlord! and own a Home without a Loan (even if bad credit)
Life happens but we specialize 'my credit is horrible' situations so you can own a home now instead of throwing away rent. If you're tired of paying rent for a house you'll never own, consider buying a home using the time tested EZhomebuyers program; so you don't need a bank loan or perfect credit.
You can get started for as little as a few thousand dollars and you get all the benefits of home ownership:
– tax breaks,
– freedom to improve it how you want,
– you own it, you sell it, you keep the money
And because we know that life happens, our program also covers the 'what ifs' that are involved with home buying… IF you have to move because job transfer or loss, just give us 3 months notice and we'll buy you out of the contract; no eviction or foreclosure on your credit. It's called our Friendly Buy Back.
And if you need a bigger or smaller house down the road we have a trade-in program. This program let you keep all your money and equity and apply it to a different house.
Check everything out for yourself …
get a free special video report explaining the other reasons so many others love the award-wining program and hear what others are saying.
It also covers our Equity Accelerator. This lets you double your equity payments every month for any amount you want to pay over your monthly house payment.
So Why Wait To Own?
See if this is right for you by click the link here to hear more here »
We'll be here to help you every step of the way!
ANOTHER GREAT OPPORTUNITY
Hear how you can get easy extra cash by simply telling others about us.
Flexible Hours
No Start Up Costs
No Experience Needed
FIND OUT MORE!
or read more about us here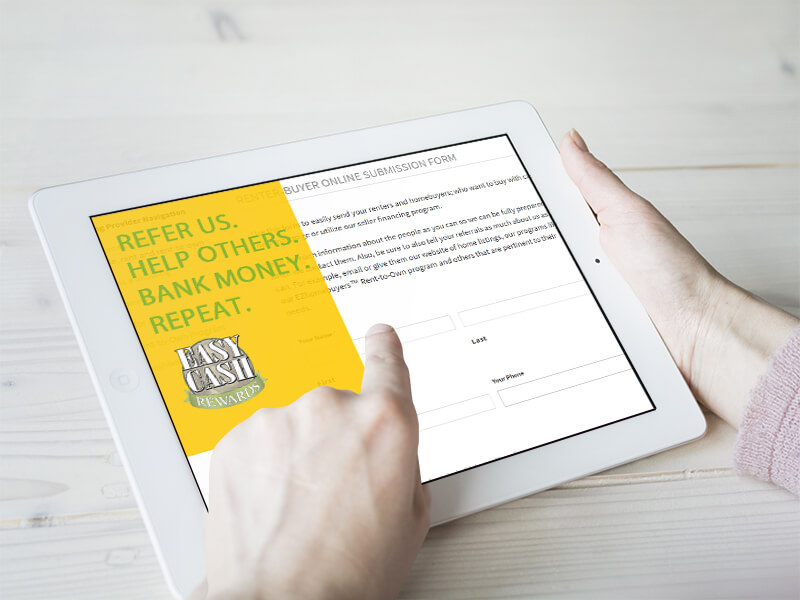 READY TO HELP OTHERS & MAKE MONEY?
GET STARTED FREE!
or read more about us here